How to Spot a Celebrity: Noynoy
[ October 4, 2010 ]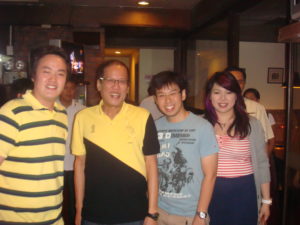 Spotted Noynoy eating with his crew at Sandaya Restaurant on Pasay Road, Makati. Kris Aquino was there, too, but she had left earlier.
We waited until Noynoy came out of the function room, and as soon as he did, the owner of the resto quickly motioned to us to get up and pose with the president.
Noynoy left as soon as we got this shot. Other customers had lined up hoping to get a photo op with him, but better luck next time.